Matt Andrews is Frankie Valli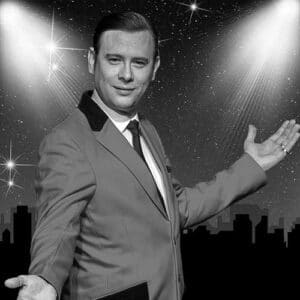 Matt Andrews has been performing for more than a decade, He has appeared in a variety of on-stage roles including an adaptation of 'We Will Rock You' one of the most successful musicals of all time.
Matt is a very established performer  and has appeared in the Joe Longthorne Summer Show 2010 Blackpool, Featured Artist, Blackpool Grand Theatre, Sky One's "Don't Stop Me Know" with London based A cappella group Geek Chic, winning the Grand Prize of £25,000 and The Mayfair Hotel London as part of Mixed Feelings, London based function Band.
Matt went on to produce, direct and star in 'That's Entertainment' a summer variety show which ran for 16 weeks in 2015. He recently finished a resoundingly successful theatre tour of in which he played Danny Zuko.
Fun Fact – Matt's first ever TV appearance was when he was just 14 years old and featured on the channel 4s BIGGEST BREAKFAST EVER  a special millennium show 1st Jan 2000